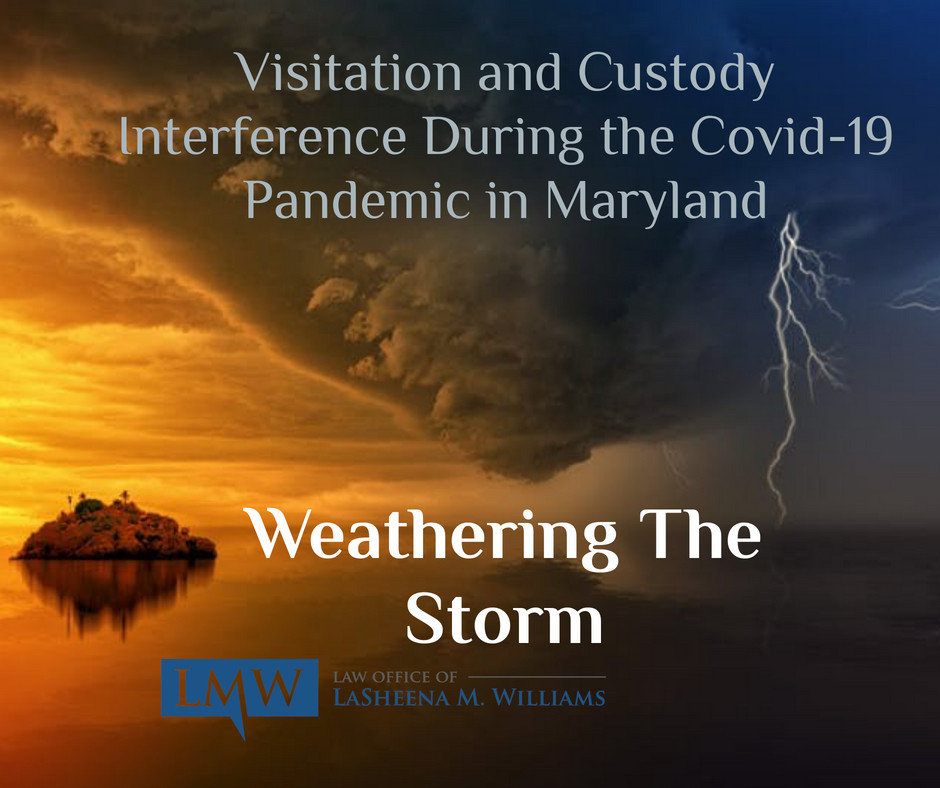 For a lot of families, the Coronavirus Covid-19 pandemic has significantly disrupted their parenting time and access with their children. Many panicking parents  throughout the country are refusing to allow court-ordered access, and they are restricting their co-parent's already limited access schedules.
Currently, Maryland Circuit Courts are not expected to resume full operation until early June. For Maryland families dealing with the Covid-19 pandemic, interfering parents will not feel any repercussions for these behaviors for several months.
Couples trying to navigate custody and visitation during this unprecedented time should implement the following rules to help avoid interference with Custody and Covid-19 in Maryland:
Maintain open communication. The Court of Appeals issued a family and children ruling that stated that parents are free to work together to modify custody and access orders, if they can agree to the change. If the parents are unable to agree to the change, the parents should adhere to the order. Being open with your co-parent is key to alleviating safety and health concerns.
Avoid discussing disagreements regarding access with the children. Discussing access failures and interference with the children is never ok. Any number of health related issues could be present in the home, and it is important that you avoid allowing the outbreak to place a strain on your family, where possible.
Liberally use Skype, Facetime, Zoom, and other video call parenting time. Allow ample co-parent access through video applications. co-parent video access. Maybe your co-parent can read a bedtime story via zoom, or have a dinner date via skype. They sky is the limit.
Keep track of all visitation and custody order violations. Some parents are unilaterally shipping children off to different states, or they are taking children and refusing to return them to the co-parent. Keep track of these violations, and your efforts to alleviate the issue. Many parents are escalating situations  unnecessarily, and it is important to keep track of calm respectful efforts to work through co-parenting issues.
Use Family Apps such as Appclose and Our Family Wizard to track communication. Using apps that are made to track co-parenting communication can keep you focused on the issues at hand, and keep both parents updated regarding new emergencies. These apps can monitor tone, child-related expenses, record updates,  so that co-parents can stay up to date with child-related information.
Contact Our experienced Maryland Child Custody and Visitation Attorneys Regarding  Interference with Custody and Covid-19 in Maryland Today 
If you feel that your co-parent is using the Covid-19 pandemic as a reason to unreasonably interfere with your custody and visitation schedule, it is important to know your rights and protect your interests. Being unfairly kicked-out of your child's life, can have devastating consequences on your parent-child relationship. At the Law Office of LaSheena M. Williams, LLC, we understand the importance of familial bonds and we work tirelessly to ensure that you maintain your relationship.
Our firm ardently represents clients throughout Rockville, Bethesda, Gaithersburg, Silver Spring, Takoma Park, Chevy Chase, College Park, Cheverly, Greenbelt, Oxon Hill, Hyattsville, Upper Marlboro, Largo, Bowie, and surrounding communities. Call us today at (301)778-9950 or send us an online request for a consultation.