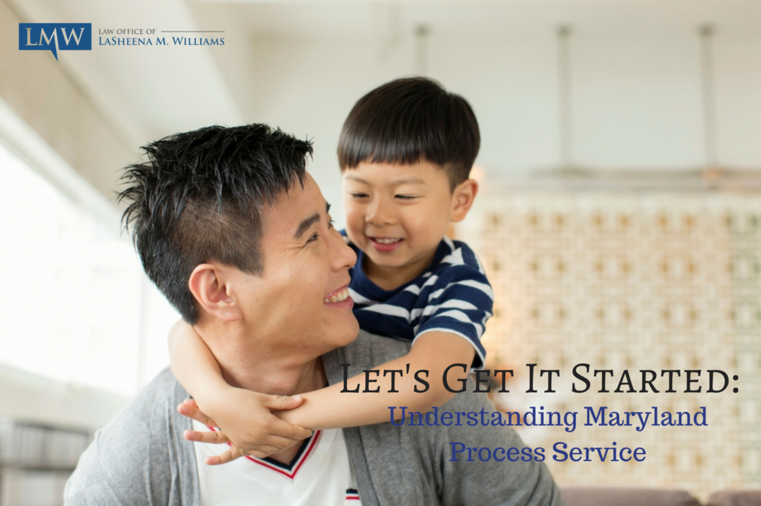 Often the largest hurdle in starting your divorce, child custody, child support, or paternity proceeding is ensuring proper Maryland process service. Service of process "is the procedure by which a party to a lawsuit gives appropriate notice of initial legal action to another party." Without proper service, you will be unable to move forward with your lawsuit.
Maryland has strict requirements for this process and these requirements must be satisfied before you can move forward with your divorce or other family law related action.
There are several standard methods to properly serve you spouse in Maryland with divorce papers or other legal documents. The method you should use largely depends on your relationship with the opposing party, your knowledge of their current address, and their overall effort to avoid being served.
Four standard Methods of Maryland Process Service in Montgomery County, Maryland and Prince George's County, Maryland
Personal Service – Anyone that is not a party to the lawsuit and is over the age of 18 can serve the opposing party with notice of your lawsuit. You can have a friend, co-worker, or even an adult child serve the opposing party. If you elect to serve through personal service, you should have the server complete an affidavit regarding your service and have the affidavit filed with the court.
Process Service – Process service is a type of personal service. There are many process servers throughout Maryland that you can pay to serve the opposing party. Maryland process servers are useful as they can make multiple attempts to serve the opposing party, and will typically document the dates and times of service.Some Maryland process servers may even be able to video record service upon the opposing party if the opposing party is likely to contest the service.
Sheriff Service – For a fee, the sheriff's office can serve your spouse. Under certain circumstances this may be more effective than process or personal service. Sometimes it may take a significantly longer time to obtain service through the sheriff, as there is no real way to check in on when the sheriff will get around to serving your documents.
Service by Mail – Another option may be to attempt service via the United States Postal Service. This may be a good method, but it requires the other party to accept the papers and to personally sign the receipt. Maryland has strict requirements on what proper service via mail requires. To serve your spouse by mail in Maryland, you should mail all appropriate documents via certified mail, restricted delivery, with return receipt. Once you receive notice from the post office that the party has been served, you should submit an affidavit and the proof of service with the court.
If  You are Having Difficulties with Maryland Process Service Call for a Consultation with an Experienced Maryland Divorce Attorney for your Prince George's County, Maryland Prince George's County, Maryland Matter
Proper service of divorce or family law related pleadings is necessary to begin the divorce process in Maryland. You need an attorney handling your case who understands all procedural family court rules including Maryland Process Service requirements,  filings, and other local rules in the Maryland legal system. Contact the Law Office of LaSheena M. Williams, and our office will work to ensure that every step of your divorce case is skillfully handled. If you need assistance, please call our office at (301) 778 – 9950 or leave an online request for a consultation for more information.