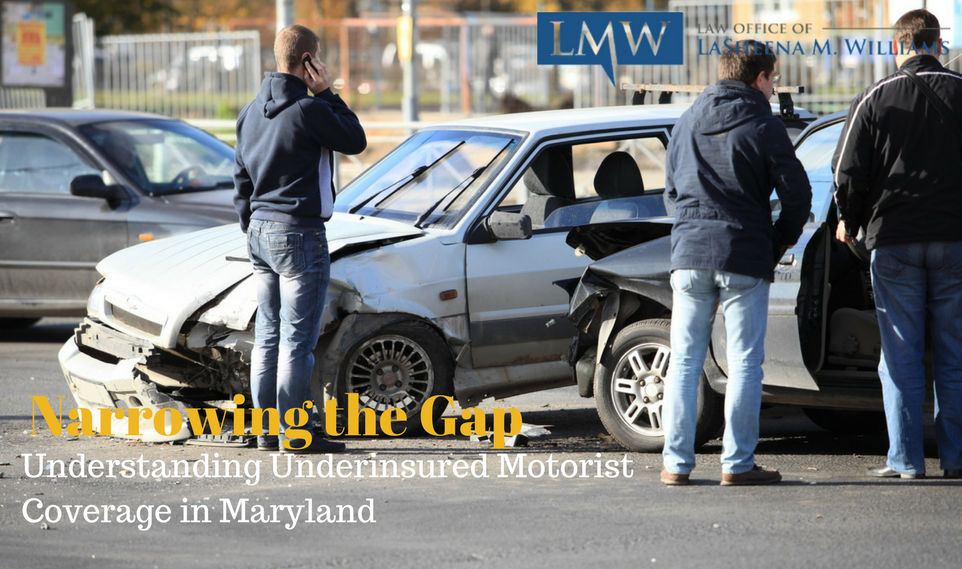 In Maryland, underinsured motorist claims are a commonly misunderstood by many Maryland drivers. When a person is injured as a result of another person's negligence, the injured person may be entitled to a significant compensatory award. Typically, damages arising from a negligence liability claim are paid by the negligent party's insurance company.
For example, if a driver is injured due to another driver's negligence the liable party's auto insurance provider would pay either a negotiated settlement or a compensatory damage award. However, when a Maryland negligent driver fails to carry automobile insurance or fails to carry sufficient automobile insurance, it may be difficult for the injured party to obtain fair compensation for injuries and damages. According to recent insurance rate statistics, in Maryland at least 12% of all active drivers are motorists uninsured. Therefore, for a driver involved in a Maryland car accident, the odds are one in ten that the other driver will not carry insurance coverage.
Understanding Underinsured Motorist Coverage in Montgomery County, Maryland and Prince George's County, Maryland
In Maryland, all drivers are required to carry uninsured motorist coverage, in the event the at-fault driver has no liability insurance or if he at-fault driver has insufficient liability insurance to satisfy claims by the injured party. Under Maryland law, uninsured motorist claims have been extended to include both uninsured and underinsured motorists. Therefore, a Maryland uninsured motorist claim may include a claim where the driver does not carry any insurance at all a claim where the driver does not have adequate insurance.
Underinsured Motorist Claims in Prince George's County, Maryland Montgomery County, Maryland
For example, a Maryland underinsured motorist claim could potentially include a situation where the maximum compensation available under the liable party's policy is $50,000 for a bodily injury claim, but the injured party's claim is for $100,000.
In the above Maryland underinsured motorist example, in order to obtain compensation, the injured party would need to pursue a claim against their own insurance carrier for the deficiency between the amount claimed and the at-fault party's insurance coverage. If a person is injured by a driver
A Maryland underinsured motorist claim is different from a Maryland uninsured motorist claim because the injured party in an uninsured motorist claim would need to pursue the entire amount of compensation for their claim from their personal insurance carrier.
In a Maryland Underinsured Motorist Claim, if the liable party had some insurance but not an adequate amount, the amount claimed would be the difference between the amount of the at-fault party's coverage and the injured party's uninsured motorist coverage. Any uncovered amounts above the policy limits would then need to be obtained through filing a lawsuit against the at-fault party.
Uninsured Motorist Claims are Not Automatically Awarded to Injured Drivers in Prince George's County, Maryland and Montgomery County, Maryland
An injured party who carries Maryland uninsured motorist coverage does not automatically receive a payout for their claim. The injured party must still prove that the accident was the other driver's fault and the claimed compensation is appropriate. If the insurance carrier does not cooperate, the injured party must file a breach of contract claim against their own insurance carrier to force the carrier to fulfill the carrier's obligations under the insurance contract.
If you have been wrongfully injured by an underinsured motorist in Montgomery County, Maryland or Prince George's County, Maryland, contact the Law Office of LaSheena M. Williams can provide a free and confidential personal injury case evaluation.
To schedule your free initial personal injury consultation to discuss your Maryland uninsured motorist claim, call the Law Office of LaSheena M. Williams directly at (301) 778 – 9950 or leave an online request for a consultation.